For safe and sustainable mobility
Our scooters have a few new features to give you peace of mind as you drive. And here they all are!
Service preparation
We have not spent this time idly. With great enthusiasm, we have been busy at work to get our scooters ready and to make them as hygienic as they are sustainable.
We have developed a new hygiene protocol for all our scooters, which involves a set of strict cleaning measures for helmets, top boxes, seats, handlebars, buttons and control panels, to be carried out by specialists every day.
Check out our team's cleaning procedure. WATCH VIDEO
We've also removed the integrated visors from our helmets for your peace of mind.
Finally, a cleaning kit is included with each of our scooters for you to
What's in the cleaning kit?

Disinfectant spray: Spray it on your gloves to disinfect them.

Hairnet: Remember to put one on under your helmet. And, if possible, travel with the helmet visor raised.

Wipes: Clean your scooter's handlebars and seat with the spray and these wipes.
Some extra recommen- dations
Wear your own gloves and disinfect them with our gel

Drive wearing sunglasses and with the visor raised when possible
Wear your mask for the whole journey if you can

Use our wipes to clean the helmet and scooter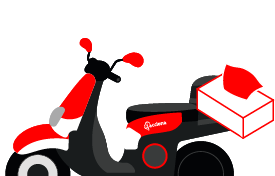 That's why we ask that you wipe down the handlebars, helmet and seat a second time.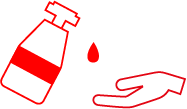 Stay safe by cleaning your hands with the spray from the top box.

And remember to clean your mobile phone as soon as you get home!
What should I do after the trip?
Remember that, even though we have a daily cleaning protocol, the scooter that you've just used might be picked up by someone else.
For taking care of yourself, others and the planet!